ENO Environment Online organises  several conferences annually together with other educational institutions and organisations.
2023

Zero Carbon Conference 2023 will be organised 8-9 February 2023. Submit your proposal for a short presentation by 30 November 2022.
2022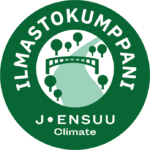 13 Oct 2022
Cities, climate strategies and the education sector
ENO Green Cities Network -meeting with Climate Joensuu:
Session 1: 14:00-16:00 EEST time (Helsinki UTC+03:00)   See the program >>
Session 2: 19:00-21:00 EEST time (Helsinki UTC+03:00)   See the program>>
Environment Online -ENO will host an online event from its head-office from Joensuu, Finland. It is an open event to all partners interested in the network and its activity.
Partners:

Climate Joensuu is the city of Joensuus climate action department with high ambitious goals to set the city carbon-neutral by 2025. Climate Joensuu encourages, supports and inspires individuals, companies and organisations to take climate action and achieve shared climate goals. Now in the context of ENO Green Cities Network meeting  Climate Joensuu will open up their work and close collaboration with Environment Online -ENO within the education sector.
Read more about Climate Joensuu from here
Speakers:
ENO Environment Online, Climate Joensuu, Helsinki region environmental services HSY, GreenLahti, Taipei Wanfu Public Elementary School …
Call for papers is open up until the end of Sep 2022. Send your application from here
4-5 June: World Environment Day On-line event #OnlyOneEarth
Only One Earth, Act Now!
Unthoughtful actions of mankind have badly bruised our planet. The climate emergency, the loss of nature and deadly pollution threaten to destroy our homes and eliminate many of the millions of species that share this beautiful planet with us. Our lives, our peace, our well-being is threatened like never before. But this degradation is not inevitable. We have the power and the knowledge to reverse the harm and restore the Earth
– if we
Act Now!
Act Now
to step up global efforts for ecosystem restoration and help address triple planetary crisis: climate, pollution and biodiversity loss.
Act Now
 brings to you 3rd edition  of
  World's  Largest  and  Longest  Environment Online Event
, 
24-hours Non-Stop, on 4th-5th June 2022.
 The event brings together organizations and individuals from the world over to present their climate actions and generate awareness about how we are geared towards restoration of our environment, and for taking care of the only planet we know!
Act Now 
has organized with 
Environment Online
 (ENO), Finland, 
Treebuddy.Earth
, 
Finland
Plant and Care for Peace
 (Pacfpeace), 
Finland,
Brookfield International School
, Chandigarh, 
Glamanand
, India, 
Envirate
, 
Finland, 
Nature Education Society of Taiwan
 (
NEST), Taiwan, 
The POP Movement
, USA and 
World Sustainable Development Forum
 (WSDF), USA.
Would you like to present in this event?
Please send info about yourself and about your presentation to:
info@enoprogramme.org
rajiv.shrivastava@enoprogramme.org
Please register yourself also to the event
from here