World Water Days with ENO
ENO Environment Online celebrates together with UN the World Water Days organising events and activities for it's network following the ongoing themes. The first activity on World Water Day was organised in 2021.
Year 2023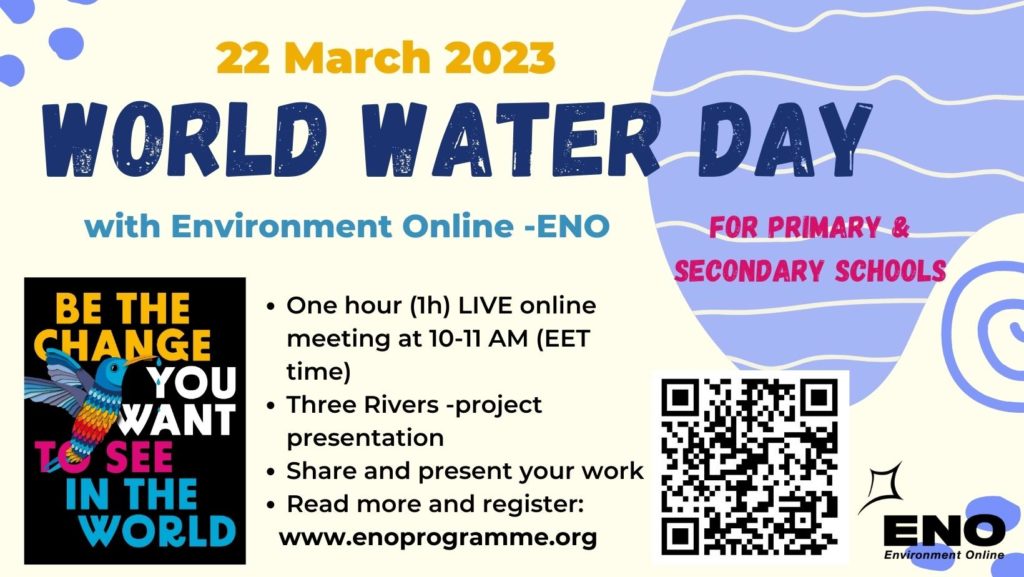 Registration to one hour (1h) meeting from here
See detailed instructions for ENO schools below.
Dowload PDF Instructions for ENO schools from here
UN 2023: BE THE CHANGE YOU WANT TO SEE IN THE WORLD
This World Water Day is about accelerating change to solve the water and sanitation crisis.  And because water affects us all, we need everyone to take action.  That means you!You and your family, school and community can make a difference by changing the way you use, consume and manage water in your lives.  Your commitments will be added to the Water Action Agenda, to be launched at the UN 2023 Water Conference – the first event of its kind for nearly 50 years.  This is a once-in-a-generation moment for the world to unite around water.

Play your part. Do what you can.

Visit the UN's campaign-page:

SHARE your works with the ENO NETWORK:

USE HASHTAGS:

#WorldWaterDay #ENOprogramme

NEED CERTFICATE OF PARTICIPATION? Write to info@enoprogramme.org

Want to participate in the one hour (1h) LIVE meeting?

22 March at 10-11 AM EET time. Including: Three Rivers -project presentation & discussion. Possibility to present and share your project.

Register from here Registrations by 17 March 2023.
Year 2022

Environment Online ENO invites all the ENO schools around the world to participate on the UN's World water day on 22 March 2022 dealing with the common theme of GROUNDWATER.
Read detailed instructions from here >>
An Online event to present the works is being organised on World Water Day 22 March at 13-14:30 PM (EET timezone). The works can be presented by the students or teacher. If you're unable to join the live event you can send your work to ENO at info@enoprogramme.org and it will be passed in the event by hosts.
IMPORTANT! You will get the link to the event after registering. Register to the online event from here >>