We invite all ENO students and teachers around the world to switch on the Light for the Earth with us. Join us on November 29, 2019 at 6:00 PM local time.
TEACHERS:
The Earth is suffering. How does the young generation see this, what do they think? Do they feel her pain or do they think more about climate change and the changes it is going to bring to them? Encourage them to speak up and write their personal feelings in the form of A LETTER TO EARTH. It can be short or long, a poem or a thought, a slogan or graffiti – the form is not important. It can be environmentally orientated or a vision of the Earth they want to live on – it should be their personal choice. We want people to raise the voice of the young and think about their feelings
Choose the best letter(s) / thoughts / verses / poems …
Students write them on a big piece of fabric (2m x 1m) out of which you will later create a lantern. Use permanent markers and fabric that allows light to shine through.
MAKE a lantern. * See the instructions below.
Hang the lantern in the tree in the schoolyard or in a public park if possible.
Prepare a short event and invite parents and local community. Students read their letters to Earth. The event begins at 5.30. You switch on the light at 6 PM local time.
Make a photo and send it to info@enoprogramme.org together with the best letter translated to English.
OPTIONAL:
– You can make as many lanterns as you want. Each classroom may do its own. Also each child or a visitor can prepare their own small lantern and bring it to the event.
– During the event you may raise the funds for adopting trees (1EUR=1 tree).
REGISTER: https://forms.gle/3jAtJ1KiZ8Wqsfo47 Deadline: November 20th, 2019
INSTRUCTIONS – How to make a lantern
You need:
2m of wire / a piece of fabric 2m x 1m /4m of ribbon /a needle, thread and strong tape
Cut the wire in half (1m each), bend it and make two circles. Fasten the circle with strong tape.
Cut the fabric 1 m wide and 2 m long. The fabric can be any color you want, just make sure it has no patterns and it is transparent.
Write the chosen words on the fabric. The text should be written by hand and in your mother tongue.
When finished sew the fabric longwise.
Sew the fabric around the metal circles at the top and at the bottom of the lantern.
Cut the ribbon into 4 pieces. Fasten them on 4 spots at the top of the lantern. Make a knot or end it with a hook.
Hang something at the bottom of the lantern to make it heavier: ribbons, pom poms, branches, wood, shoes … It can be anything, just use your imagination!
Lanterns are lit with LED lights. Hang a battery powered clear LED light (single or strands) from the ribbon at the top, so it will glow at night. You can also use solar light or electricity if easier.
Hang the lantern in the tree and make sure it is switched on every day through December.

ENOArt
Darinka Orel, ENO Slovenia

Mika Vanhanen
ENO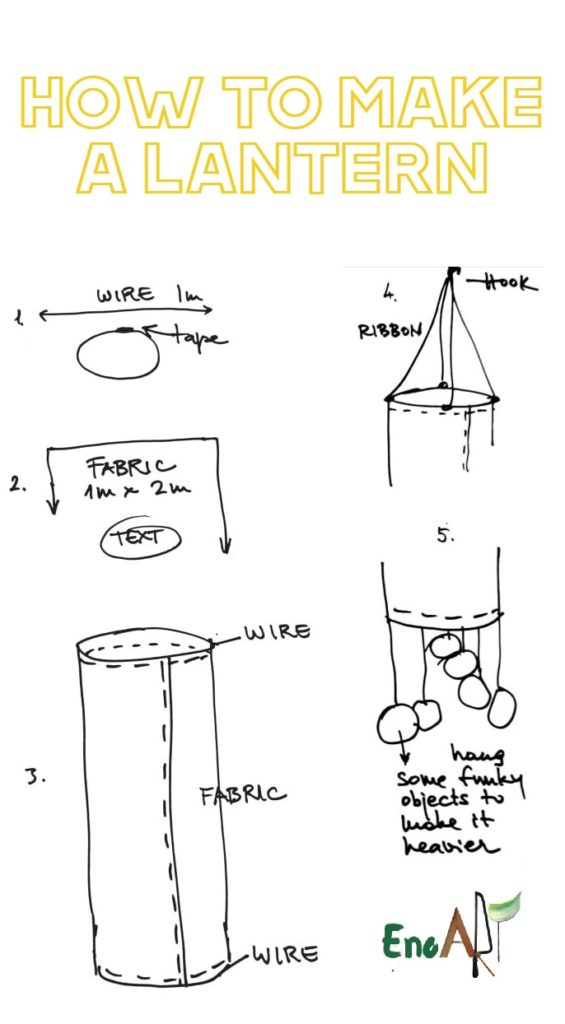 Sytytä Valo Maalle!
Kutsumme koulut Suomessa ja ympäri maailmaa sytyttämään Valon Maalle, 29. marraskuuta 2019 klo 18.
Maa-planeettamme kärsii. Kuinka nuori sukupolvi näkee ja kokee asian, mitä he ajattelevat? Tuntevatko he sen vai ajattelevat enemmän ilmastokriisiä ja muutoksia, mitä se tuo mukanaan Rohkaistaan heitä puhumaan ja kirjoittamaan omista tunteistaan kirjeenä Maalle. Se voi olla pitkä tai lyhyt, runo tai ajatus, iskulause tai graffiti – tärkeää ei ole muoto. Se voi olla ympäristöön suuntautunut näkymä Maasta, jossa nuori haluaa asua ja elää – hänen henkilökohtainen valintansa. Haluamme tuoda nuorten äänen kuuluviin ja saavan meidät ajattelemaan heidän tuntojaan.
Valitse paras kirje/mietelmä/runo ym.  Oppilaat kirjoittavat sen suurelle kankaalle ( 2m x 1 m) josta voit myöhemmin tehdä lyhdyn. Käytä vedenkestävää tussia ja läpikuultavaa kangasta.
Valmista lyhty, ohjeet alla.
Laita lyhty roikkumaan puuhun koulun pihalle ym. tai puistoon, mikäli mahdollista.
 
Valmista lyhyt tilaisuus ja kutsu vanhemmat ja lähiyhteisö paikalle. Oppilaat lukevat kirjeitään Maalle. Tapahtuma alkaa klo 17:30. Valo sytytetään klo 18
Ota tapahtumasta kuva ja lähetä se osoitteeseen  info@enoprogramme.org ,liitä mukaan yksi kirjeistä edustamaan kouluasi.
LISÄVAIHTOEHTOJA:
– Voitte tehdä niin monta lyhtyä kuin haluatte. Jokainen luokka esim. voi tehdä omansa. Myös lapset ja vieraat voivat tehdä oman pienen lyhtynsä ja tuoda mukanaan tilaisuuteen.
– Tapahtuman aikana voitte esim, kerätä varoja puiden taimien hankkimiseen kehitysmaan koululle  (1e=1 puu).
REKISTERÖI KOULUSI MUKAAN 20.11. mennessä:
https://forms.gle/3jAtJ1KiZ8Wqsfo47
OHJEET – Näin teen lyhdyn
Tarvitset:
2m metallilankaa / läpikuultavaa kangasta 2m x 1m /4m nauhaa/ neulan, lankaa ja pitävää teippiä
Katkaise metallilanka puoliksi (2 x 1m), taivuta ne ja tee kaksi ympyrää. Kiinnitä ympyrät vahvalla teipillä.
Leikkaa 1 metriä leveä ja 2 metriä pitkä kangas. Se voi olla minkävärinen haluat, kunhan se ei ole kuviollinen ja valo kuultaa sen läpi.
Kirjoita haluttu teksti kankaalle. Tekstin täytyy olla käsin kirjoitettu ja omalla äidinkielelläsi.
Kun se on valmis, ompele kangas pituussuunnassa yhteen. Ompele kangas metalliympyröiden ympärille ala- ja yläpäästä.
Laita lyhdyn alaosaan roikkumaan jotain, että se on riittävän painava, esim. nauhaa, koristepalloja tai tupsuja, puuta, kenkiä, mitä tahansa, käytä mielikuvitusta.
Lyhty valaistaan LED-valolla. Laita LED-valo tai -nauha roikkumaan nauhoista, jotta lyhty näkyy pimeässä. Voit käyttää myös muunlaista valoa, ei kuitenkaan tulta.
Laita lyhty roikkumaan puuhun ja varmista, että se laitetaan päälle joka päivä joulukuussa.
Järjestäjä: ENO Schoolnet yhdessä ENO Slovenian kanssa