This is your check-list for ENO Environment Onlines annual programme! Some changes in the dates and events are possible. We intend to inform you about those well in advance.
SCHOOL YEAR 2021-2022
European spring 2022 (January to June):
31.1-4.2 ENO Weather week – weather observations
10.2-22.5 ENO ART Upcycled Art Contest in accordance with year of Artisanal Fisheries and Aquaculture
22-25.2 Zero Carbon Conference for students
Tue 22.3 World Water Day with ENO
22.4-5.6 Tree planting event "Plant and care for Peace" 
Read more and participate from here
Fri 13 May Outdoor Classroom day: LET'S GO OUT FLOWERBOMBING!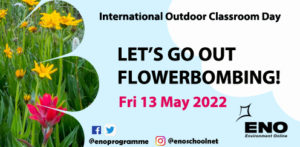 More info & instructions coming up soon.
4-5.6 World Environment Day  On-line event 
More info coming up soon.
8.6 at 13:00 PM (EEST time) ENO Green Cities Network -workshop for cities and it's stakeholders, schools, communities and enterprises (more info coming up soon). Register to the event from here
European autumn 2021 (August to December):
Thu 2.9 ENO Short introduction to activities: open event for anyone interested in ENO activities in Zoom.
Tue 21.9 ENO Tree Planting Day "Plant a tree for an equitable and sustainable world" (UN International Day of Peace theme for 2021)
11-17.10 Energy awareness week Challenge for the ENO green cities, municipalities and schools to reduce use of energy
25-29.10 ENO Weather week – weather observations
4.11 Outdoor Classroom day with ENO
Fri 3.12 ENO ART Light project: Glass into the light in accordance with International year of glass