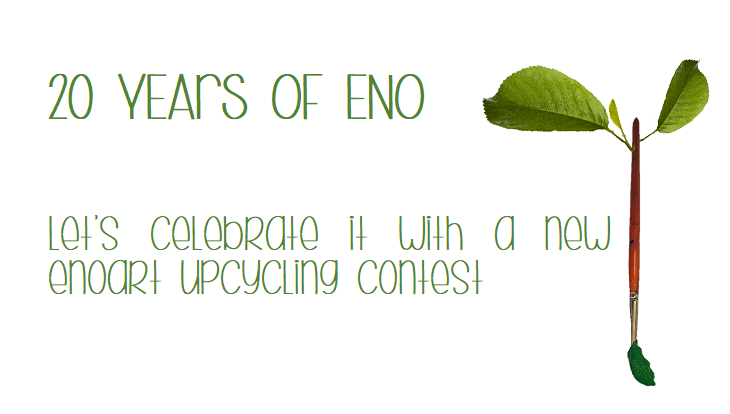 The year 2000 was the beginning of many new and visionary things. It was also the year when the ENO program was born. Our goal was to raise environmental awareness and sensibility in the young generation and help them to grow into responsible citizens of the Earth. From the beginning, ENO has recognized the enormous importance of trees to the Earth and we have been planting them since 2004.
Humans cannot survive without trees. They are the biggest plants and the longest living species on Earth. Their role is so versatile that the list of their tasks would go on and on: they provide oxygen; store carbon dioxide; improve air quality; conserve water;  preserve soil; support wildlife; provide shelter, medicine, fruits and wood; they trap dust and absorb pollutants from the air; reduce heat;  control climate; filter the sun's radiant energy; reduce wind speed; strengthen communities …
And besides all that – they are beautiful and majestic.
TREES PROTECT FUTURE
No wonder our new ENO Art upcycling contest will pay tribute to trees! We have prepared an upcycling contest for students and a photo contest for teachers.

STUDENTS, CREATE A TREE
The tree that you create will be displayed in the school hall, your classroom, school library or maybe outside your school.
It must remind the passers-by of the enormous importance of trees for the Earth and humanity. It may function as a display or it may create a pleasant atmosphere where everybody will want to sit and socialize…
Create a tree with a message. Think of all the diverse functions of a tree. There is no right way for how you see it – it could be as an object of beauty or a collection of chemicals … What matters is that you become the voice of trees and make people think.
MATERIALS
Construct your tree from old and used materials. Use materials you have in abundance. This can be practically anything you find in the waste: pieces of wood, metal, wheels, old newspapers, old books, umbrellas, plastic bags, bottles, CDs …
There is no limitation on types of materials.
Any materials needed for the tree's construction – such as glue, string, nails, screws, or other similar materials – are allowed.
The tree must have a 3D construction and be at least 2 meters tall. If the construction allows, it can stand on its own, if not, it can lean against the wall.
The most important thing is your imagination! Think out of the box. Surprise us!
IMPORTANT
We must all learn how to reuse materials and find the joy of creating again. Never forget that we have everything we need to create anything we want.
Learn to find the beauty within the material itself. Do not transform the material into something that it is not. Plastic is plastic and not marble.
Find the beauty in the imperfection of the used and broken things. When we learn how to love the imperfection of things, we will learn to love our own so-called imperfections.
The possibility of using anything does not mean you have to use everything! Choose tastefully.
RULES
REGISTER YOUR SCHOOL FIRST HERE
You should send a short description of the used materials and three photos of the tree.
DIMENSIONS: The tree should be natural size, which means at least 2 m tall.
Create the best interior and atmosphere that suites your tree! Take three photos of your tree from different angles – one with students.
Each submission with a maximum of three photos must be clearly identified. Data should be readable in English and written in Latin alphabet.
Entry category  (A, B, T)
Full name of author(s)
Full name of mentor
Name of the school and full address of the school
Country
Email of the contact person
Each school is limited to three submissions.
SUBMISSIONS
All entries must include all of the above information and three (jpeg) photo attachments, and should be sent via email to:  enoart@enoprogramme.org
ENTRY CATEGORIES
A – Elementary schools, 6 – 15  years
B – Secondary schools, 15 – 19 years
T – Teachers
EVALUATION, JUDGING AND PRIZES
Your artwork will be evaluated for Best Presentation, Best Use of Material and above all, for the most ORIGINAL and the most CREATIVE idea.
Winners will be selected by an international jury consisting of four experts, coming from four different continents.
Practical technical prizes will be awarded to the top project in each category!*
Top five projects will get a diploma signed by ENO and the International jury.
Every participant will receive a certificate signed by ENO and the International jury.
All the entries will be displayed within the online gallery.
* The spread of coronavirus forced us to change the beautiful awards we prepared for you, because they included traveling. We had to decide for safer practical awards. The winning author and mentor of each category will get smart phones.
JURY
Anna Sousa – artist, Brazil
Sanah Sharma – designer, India
Carlo Nati – architect, Italy
Christopher Wurst – photographer, USA
We look forward to seeing the results of your creativity and vision!
TEACHERS, TAKE PHOTOS AND CREATE "TREE STORIES"
Every tree has a story. Find it and share it with us.
We want to see stories of trees from all over the world. Let your tree speak through the photo.
Is the tree in your neighborhood the tallest, the smallest, the funkiest, the oldest tree ever …
Is it full of animals, birds, insects?
Is it hurt, burnt? Is it dying?
Or is it simply beautiful, blooming or changing colors?
Maybe it is trying to survive or something strange happened nearby?
CONTEST
You must be a teacher and a member of ENO Teachers FB group.
*If you are not yet a member of FB group ENO Teachers, ask for membership, but please, do not forget to answer the questions we send! You will be accepted as soon as you answer the questions.
Send your photo to ENO Teachers Facebook page and publish it there.
Add your basic data to the photo:
Name and surname, Country, Title of the photo / or a short description of circumstances
Photos with most likes will be sent to the semifinals and THEN judged by an expert.
Authors of the best ten photos will get a diploma signed by ENO and the International jury.
All the teachers who will take part in the photo contest will get the certificate, signed by ENO and the International jury.               
Darinka Orel, ENO SLOVENIA                                   Mika Vanhanen, ENO – Environment Online