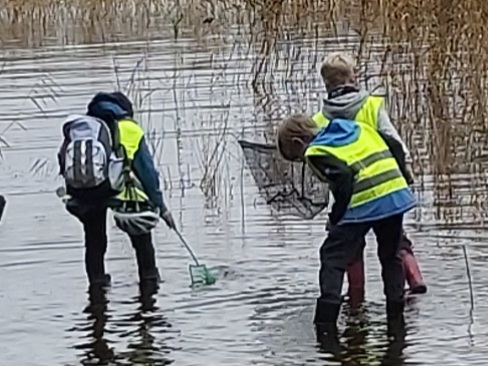 ENO invites all the ENO schools to participate in the UN World Water Day together with Nepenmäki primary school from Joensuu, Finland!
In this water pilot we invite the ENO schools to show if they have studied the water issues. We're interested to hear how you have studied? What methods and what is the outcome of the studies? Has your school made scientific studies or have you dealt with different artistic approaches? You can send us photos and documents of the works or explain the studies otherwise.
Nepenmäki school's 3C-class in Joensuu has been studying a lot of the water issues this year. On World Water Day 22 March they'll publish a blog posting "Jump in the vital water" to the whole ENO network. There they'll show what they have been doing and how.
ENO schools can also participate in World Water Day though the UN theme "Valuing water". When sharing the works ENO schools should remember to post the works to ENO platforms and use ENO hashtags:
Facebook @enoprogramme
Facebook ENO Teachers
Instagram @enoschoolnet
Twitter @EnoProgramme
Send works through email at: info@enoprogramme.org
More information on World Water Day

List of the schools participated and their works (the list is being updated):
Nepenmäki school, Joensuu, Finland:
Read the blog posting "Jump in the vital water" from Nepenmäki school from here
Istituto Vincenzo Cardarelli di Tarquinia, Italy:
SORELLA ACQUA 1AAChiare, fresche e dolci Acque…
Chiare, fresche e dolci Acque…
Liceo Classico dell' I.I.S.S. "Erodoto di Thurii" di Cassano, Italy: 
SCIENZE-risparmio ottenibile con interventi delle amministrazioni
CEIP Federico Romero, La Solana, Spain:
IPSEOA  dell'IISS "Erodoto da Thurii " di Cassano Ionio ( Cosenza), Italy: