ENO network just turned 20 years so we asked you to share your stories and memories during the years. Thank you so much for sharing! Here's a short compilation of them.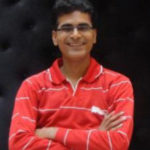 Read Rajiv's ENO story "I stepped in green" from here >>
Babita Bajracharya, ENO country coordinator for Nepal, English Teacher
Generally we participate in ENO Tree Planting Day and the event occurs when ENO asks to plant trees on certain dates. Apart from that, I let my students plant trees on their birthdays as far as possible. Planting trees on birthdays is one of the best things. We are making both our Mother Earth and us happy by planting trees.
I have organized tree plantation programs and recycling activities with my students from different schools. It was held mostly in the province where I live and the stakeholders are the head teachers, local people and my parents. The trees which my students have planted inside the school areas have grown well and students are also very happy to take care of them. I have even planted some trees in 'Pashupati Temple, the world heritage sight' and people around that area have taken good care of them.
Planting trees gives me inner peace. I think it is one of the best things which we can give to our Mother Earth as a gift and also a gift to the next generation. Every year I try to include more people from different areas to take part in this project.
This year, due to pandemic and lockdown, I could ask people from other provinces also to plant trees in their areas and this became successful also. Again on 21st September, I am going to request virtually more people to plant trees.
Ana Prieto – ENO Country Coordinator for Argentina
I have participated every year in all activities since September 2004.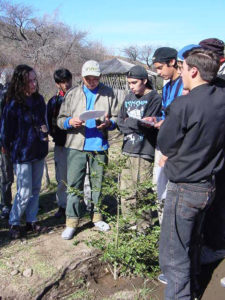 ENO started in Argentina in the CEI San Ignacio, then it spread throughout the country. In these years, rural schools in very remote areas as well as large cities have participated. All with great enthusiasm and desire to share their actions and ideas to live in a better world.
ENO allowed us to connect between students, teachers, youth groups around the world. Today we are part of the great global ENO family. In addition to taking care of the environment, we established strong ties of friendship, we learned to work together between very different ideas, cultures and countries. We learned to live together and celebrate diversity.
It is a joy to see how students, now adults, professionals and many teachers who are now retired continue to take care of ENO, spreading its activities and even participating in them. It was a great achievement on a global scale.
With ENO we learned to value our environment, connect, work together and celebrate the diversity of languages and cultures around the world.
Natasa Durtanoska school coordinator
I participated for the first time during the pandemic in ENO Tree Planting day. My students planted flowers. They were very satisfied. 🌳🌳🌳Planting trees is the best way to make our world a better place for living. 🌳🌳🌳
ENO COORDINATOR-INDIA-POLITICAL SCIENCE TEACHER
We have been participating in ENO Tree Planting Days. This year because of COVID-19,  it was not possible to organise the event in schools. Trees were planted at home by families or friends in small groups.
Principal Ma'am Mrs. Anita Wadehra appreciated the enthusiastic and energetic participation by students living up to the motto 'Life really grows on trees, Plant one today!'
Jorge Luis Pepe ( ENO India – ENO Argentina exchange )
Meeting between students and teachers at CPEM 7 in Junín de los Andes.
Exchange on ENO activities with the group of visitors from ENO India and the students and teachers from Argentina. Thanks to ENO for bringing us friends around the world! Here with my great friends from ENO India.
Marianela Pepe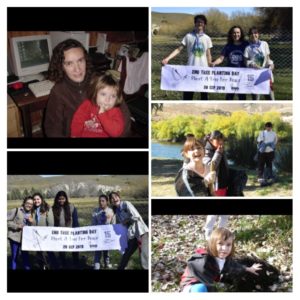 My mother started working with ENO in 2004, when I was 2 years old (I'm currently 18) so I was involved from a very young age. I've participated in many activities from trees planting to other events from ENO. It's a huge pleasure to be a part of this and I think it's beautiful to meet people from different countries and cultures, I love it! 
Roberto Parra Iriarte – Chile
the year 2016 I have been working in an artistic High School in Arica, Chile. We have a little garden in school and where we can make activities with students. Every year we have a different activity with students in the school and garden. There was a great opportunity for our students "to open the brains" when a trip to Finland was organised last year.
The ENO program in Arica has been dating since 2008. In the last 12 years in scientific, technical and artistic schools and high schools, ENO has allowed the maintenance of orchards, with trees of the area, adapted to a desert environment, which provides a space of recreation in the educational field. Seeds have also been delivered so that students can have orchards in houses and the artistic creation has also been favored with the seeds collected. Basic education students, 6 to 12 years old and high school students from 13 to 18 years old have participated. The result is that after 12 years, establishments that did not have much vegetation have come to have 25 trees distributed inside and outside. The important thing is the participation of students, teachers and empowered community authorities who donated the plants. In the middle of the desert, ENO program brings the seed of hope, so that students may be the fruit of this movement.
Patricia Toranza, profesora de Ciencias Naturales :  El árbol preferido de los estudiantes de la EES N° 4 – DAIREAUX
Éste árbol es el más grande y añoso del patio de nuestra institución: EES N° 4 – Daireaux, Pcía de Bs As – Argentina. Muchas promociones de estudiantes han disfrutado de encuentros, charlas, juegos, eventos, aprovechando y disfrutando de su gran sombra. Actualmente está lleno de brotes, indicio de la llegada de la primavera..
CEIPSO MIGUEL DE CERVANTES
OUR FIRST STEPS IN THE ENO PROJECT. HERE YOU CAN SEE THE FIRST TREE WE HAVE PLANTED IN OUR SCHOOL IN MADRID- ESPAÑA :
Memories from WSSC 2019:
Lucio Martinez 
We were at the WSSC participating in the World Circular Economy Forum 2019 showing how important it is to develop a sustainable economy while representing Argentina. It was nice to meet people from different countries and cultures and the beautiful Finnish landscape.
Juan Wehingr
We were at the WSSC participating in the World Circular Economy Forum 2019 showing how important it is to develop a sustainable economy while representing Argentina. It was grateful to meet people from different countries, with each culture and traditions, and the finnish landscape too.