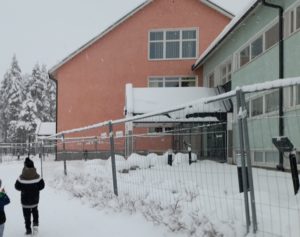 Ylämylly school is a primary school with classes from 1-6. It is situated in the municipality of Liperi approximately 15km west from the city of Joensuu. The school is interested on sustainable development and has a strong emphasis on the issues in their curriculum. The school took also part in Environment Online ENOs Design oriented pedagogy project (DOP) during the spring 2021 and achived great results working with 5 graders.
January 2021: THE START
Environment Online ENO educators met the schools student board in order to educate environmental agents of them. In the students board there are student representatives from all the classes of all the degrees (1-6). These agents did a school surveys taking into consideration different aspects of school: use of energy, saving water, waste & recycling, food delivery, near surroundings and safety. The students worked in small groups. After making the surveys the 5 grader students took topics into their own class for further development.
May 2021: THE RESULTS
There were four 5 grader classes that started working on the DOP project. The school gathered very good results working both independently and both with an educator from Environment Online ENO. A review of the works was organised during the month of May. The students presented themselves with the works they had created.
5A LOCAL FOOD
5B SAVING WATER
Small groups works on water saving issues including some practical tests with results.
5C NEAR SURROUNDINGS
A guide to visit destinations for classes nearby the school.
5D RECYCLING
Good working with school recycling with an idea of distributing a small self-made biowaste container into every class.
The last picture lists all the thing learned during this project:
We learned:
to listen each others
work on small groups
to contact different services
on working roles
presenting
concentration
new useful things
more from recycling
how to use computer better
to write a report
to be patient
This school project is done in the Sustainable Development via Co-creation project, which is funded by the Central Finland Centre for Economic Development, Transport and the Environment.